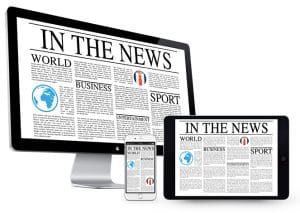 A press release is often the first step in securing a feature article or gaining media coverage that generates leads and builds awareness. Some press releases are picked-up and others hit the recycle bin. Many never make it to the intended media inbox in the first place. Here are some best practices for gaining more press coverage.
Write an attention-grabbing headline.
Get to the point in the first paragraph—who, what, where, how and why.
Use third-person narrative.
Include well-worded quotes from expert sources.
Write clearly without using business jargon.
Make sure the content is newsworthy.
Avoid inflated descriptions. A press release is not an advertisement.
Adhere to editorial and stylebook guidelines.
Check spelling and grammar.
Use the simple news release format.
Include contact information.
Most important is getting your press release to the right media sources. Posting to a wire distribution service is not enough. Veritas Marketing maintains a comprehensive list of media contacts for diverse market segments. For maximum results, Veritas Marketing will write your press release and send it directly to appropriate media channels and distribute it online. Gain the most coverage from your news by contacting Veritas Marketing.