Veritas Marketing earns bronze 2016 Summit Creative Award for logo redesign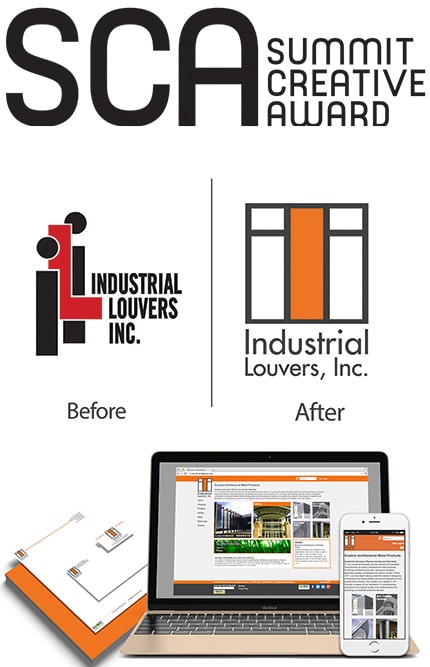 Veritas Marketing, LLC, an integrated marketing agency, was recognized as a winner in the 2016 Summit Creative Award competition. The winning submission from Veritas Marketing was among 5,000 submissions from 21 countries.
Veritas Marketing won the bronze award in the logo redesign category for design and development of the Industrial Louvers, Inc. (ILI) logo. ILI is a manufacturer of custom architectural metal products, including architectural louvers, equipment screens, decorative grilles, sunshades and column covers.
"Industrial Louvers' new logo reflects the company's vision, products and client-centric focus," says Holly Jo Anderson, CEO of Veritas Marketing. "It's a great honor to be recognized for our creativity and excellence. In addition to providing Industrial Louvers with a fresh, new logo, we updated their corporate identity, website and other marketing materials."
Over the past 22 years, the Summit International Awards (SIA) organization has established itself as one of the premier arbiters of creative excellence. The Summit Creative Award competition offers participants a unique opportunity to showcase their talents alongside similarly positioned agencies, and to have their work judged by experts in the advertising field.

Veritas Marketing, LLC
Veritas Marketing, LLC is a full-service business-to-business marketing agency. The company provides strategic, creative marketing programs and solutions that deliver results. Veritas Marketing's services include research, planning, corporate identity and branding, website development, creative services, advertising, public relations, search engine optimization, digital marketing, product launches and more. For additional information about Veritas Marketing, visit www.VeritasMarketing.com.
Industrial Louvers, Inc.
Industrial Louvers, Inc. (ILI) has been a major supplier of products to the construction industry since 1971. The company designs, develops and manufactures high-quality architectural louvers, equipment screens, decorative grilles, sunshades and column covers. ILI has been very active with AMCA (Air Movement and Control Association International) to assure worldwide customers reliable and accurate test methods and data. The company's commitment to research and development results in continuous improvement to meet customers' needs, today and in the future. Many ILI products are tested in accordance with AMCA standards, and have the AMCA-certified rating seal. To learn more about ILI, please visit www.IndustrialLouvers.com.