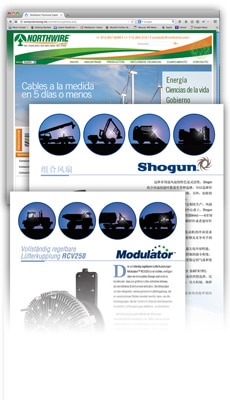 Veritas Marketing has extensive international marketing experience. Some of our clients are headquartered in Europe and rely on Veritas to reach their global audiences. Most of our clients sell or distribute products throughout the world. Many have manufacturing plants outside of the United States and others target specific regions in select countries. We encourage our clients to take advantage of the U.S. Commercial Service's Gold Key Matching Service to identify distribution and manufacturing partners in select countries.
Over the past 13 years, Veritas has provided clients with marketing materials, including abbreviated website pages, press releases, press conference presentations, press kits, booth graphics, advertisements, articles, speeches, videos, holograms, presentation materials and sales literature in more than 17 languages. Developed correctly with good translations, these materials go a long way in proving a company's commitment to developing partnerships and providing quality products globally.
Finding the media in various countries is a science. It's not enough to research SRDS or conduct Google searches to find editors and advertising representatives for trade publications, blogs, websites, local newspapers and other media outlets. Because we've been marketing internationally for so many years, we have many media contacts throughout the world.
Distributing language-specific press releases globally requires exacting coordination and attention to detail. In addition, Veritas Marketing is skilled at negotiating advertising rates that don't adjust based on the exchange rate. We have negotiated incredibly cost-effective segment-specific custom e-mail marketing campaigns with several media sources throughout the world. This allows our clients to target their marketing by region. One of these programs included reaching maquiladora in areas of Mexico that boarder the United States.
Each language has its nuances. For example, Arabic is read from right to left. This requires very specific code for a website. Without that code, each word is written backwards and the telephone numbers are jumbled. We can also confirm that Arabic is one of the most difficult languages to proofread.
If you have ever used an online translation application, you know that a direct translation is usually very different than what was intended. The key to exceptional translations is having native translators that are also writers. In addition, the translator must have an aptitude for some of the technical and industry terminology that needs to be translated. Our translation partners also keep track of these technical terminologies and styles to deliver consistent translations over the course of several years. We guarantee that our clients won't be selling jelly donuts instead of packaging equipment in Japanese.