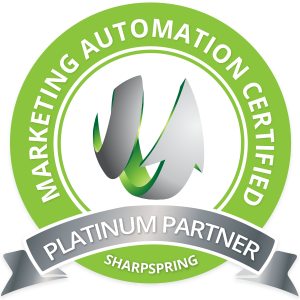 PLYMOUTH, Minn. — Veritas Marketing, a full-service international marketing agency, obtained platinum-level certification in SharpSpring, Inc.'s (NASDAQ: SHSP) partner certification program. The 20th agency partner in the world, of over 2,000 to receive platinum certification, Veritas Marketing has proven its expertise in marketing automation.
"Several years ago, we searched for a marketing automation platform that would meet the diverse needs of our customers," says Holly Jo Anderson, owner of Veritas Marketing. "An affordable platform for small- and mediumsize businesses, SharpSpring offers comprehensive features and is user friendly."
"Agencies that are leaders in marketing automation are also far more likely to become leaders in the digital marketing industry," says Rick Carlson, CEO of SharpSpring. "When a partner goes the extra mile to obtain this level of certification, we know that they truly understand the value of marketing automation and that they're committed to driving the highest results for their clients."
SharpSpring is a fully-integrated cloud-based marketing tool that offers customer relationship management, marketing automation, mobile and social marketing, sales team automation, customer service and more, all within one solution. The system's lead nurturing and scoring tools can track an individual lead's page visits, demographics, and engagement. SharpSpring's VisitorID feature helps identify anonymous site visitors by looking up their IP addresses, allowing users to see who is viewing their site, including their name and contact information. Other features includea Landing Page Builder and a Blog Builder. SharpSpring also offers a library of designs and templates for the user to chose from.
For more information on marketing automation and how Veritas Marketing can help you reach your company's goals or to schedule a demonstration, visit www.veritasmarketing.com/effectivemarketing/marketing-automation/. 
SharpSpring, Inc.
SharpSpring, Inc. (NASDAQ: SHSP) is a rapidly growing, highly-rated global provider of affordable marketing automation delivered via a cloud-based Software-as-a Service (SaaS) Platform. Thousands of businesses around the world rely on SharpSpring to generate leads, improve conversions to sales, and drive higher returns on marketing investments. Known for its innovation, open architecture and free customer support, SharpSpring offers flexible monthly contracts at a fraction of the price of competitors making it an easy choice for growing businesses and digital marketing agencies. Learn more at sharpspring.com.